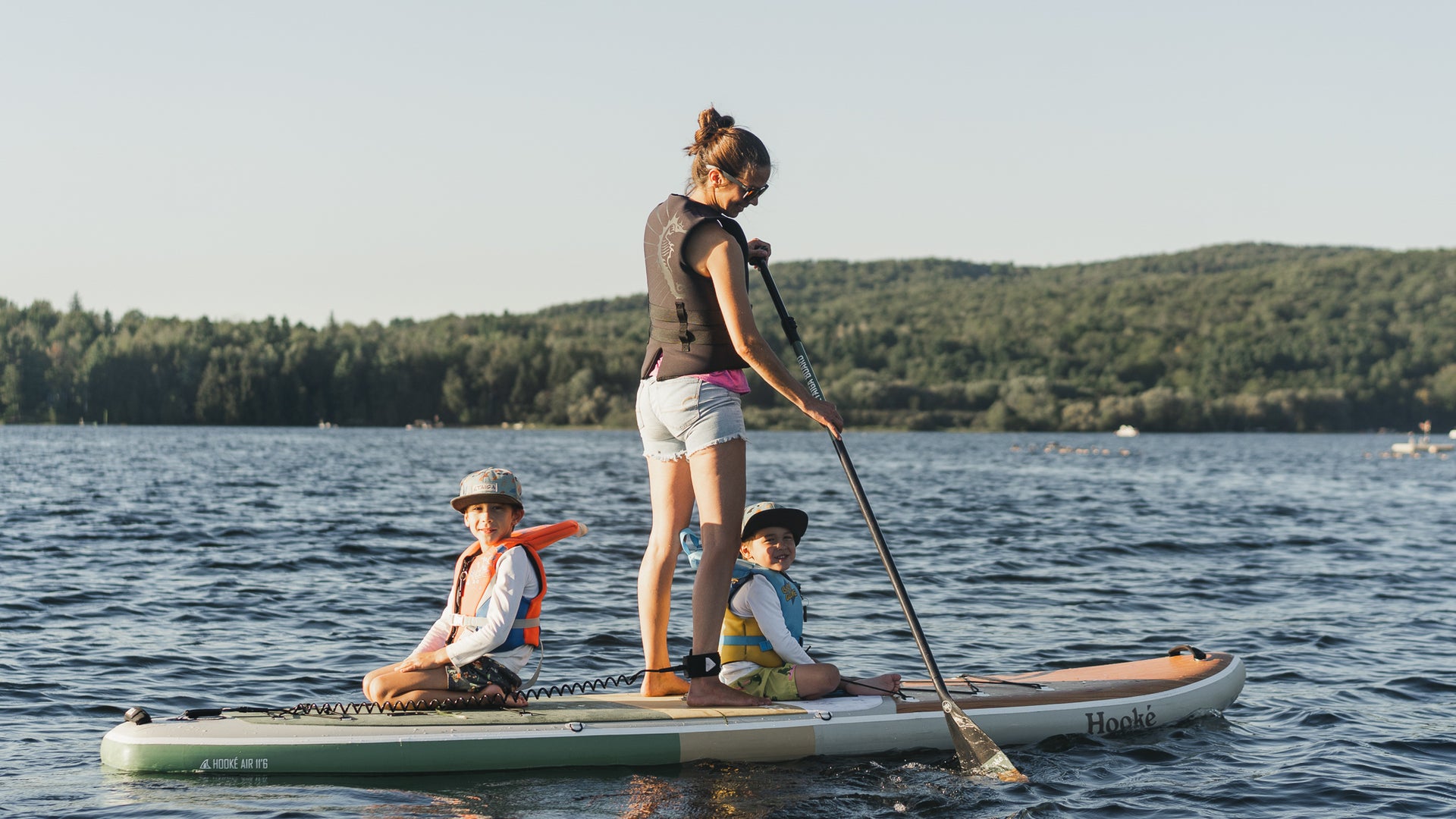 hooké air 11'6''
Technology
The Hooké Air is ideal for long distance fishing and family adventures. This inflatable SUP is the result of an exceptional design, developed by experts in collaboration with Hooké, a Quebec brand who's mission is to promote outdoor living, sustainable fishing and conscious hunting. Reinvent your SUP fishing game!
Hooké Air 11'6'': Your Ultimate Fishing iSUP
Infinite customization
Best Fishing Kit
Want to become a SUP fishing pro? Check this out!
Built-in Mounting Plate
Universal mounting plate compatible with any Scotty accessories.
Scotty compatible
You can buy accessoires to customise your ride.
Scotty compatible
You can buy accessoires to customise your ride.
Un beau cadeau pour un amateur de pêche!
Moi-même déjà propriétaire d'une planche Taiga depuis quelques années et énormément satisfaite du produit, j'ai commandé la planche HOOKÉ AIR 11'6'' - INFLATABLE PADDLE BOARD (DELUXE FISHING KIT) pour mon conjoint qui aura 40 ans très bientôt et qui la regarde depuis des mois sur le site internet.
Nous l'avons reçu tout récemment et wow, elle est magnifique! Quelle belle association entre deux entreprises québécoises Taiga et Hooké. Le look de la planche, la qualité du produit, les accessoires, tout est bien fait et tout est bien pensé pour l'amateur de pêche. Je crois que ce produit est idéal pour le pêcheur occasionnel qui non seulement aime la pêche, mais qui aime être sur l'eau en planche. Un deux pour un! Le produit est à la hauteur de nos attentes et nous n'aurions aucun mal à recommander ce produit ou tout autre produit à des amis.
Magalie
Wow Magalie! Quel beau review! On espère que ton conjoint pognera plein de gros poissons!
HOOKÉ AIR 11'6'' - INFLATABLE PADDLE BOARD (DELUXE FISHING KIT)
J'ai reçu rapidement ma nouvelle planche qui a un look qui inspire qualité, fiabilité et en plus elle est vraiement belle.
Après quelques essaie, je vous confirme que c'est idéal pour allez a la pèche dans des endroits privilégier au padle, de plus elles est bien agréable de par ces dimensions et stabilité a être utiliser avec des amis et de la famille.
Je vous dirais en toute transparence que le produits asurpasser mes attentes ce qui fait que je suis fière de la gonfle ret de me rendre a l'eau.
J'ai recommander ce produits a mon team de pêche et bientôt nous sront une dizaines avec nos padle hooke a faire du padle fishing.
C'est très relaxant et j'ai trouver un spot miraculeux et j'ai obtenue mon quotas de dorés dans un temps record.
Wow merci pour ce beau review! On espère que ton team de pêche sera impressionné également.
Le rêve du pêcheur
Au premier coup d'œil j'ai adoré cette planche avec sont finis bois et cette couleur forêt. Le sac de transport est vraiment solide et à l'avantage de se rouler. La pompe triple actions m'a étonné, super rapides et sans trop d'efforts malgré les 18 psi recommandés mais il faut ce qu'il faut cette planche supporte 450 lbs donc aucun problème avec une glacière 2 cannes et un sac.
J'ai même descendu la rivière bonne aventure avec une deuxième personne assise devant sans problème malgré le bon débit de la rivière à ce moment-là. Nous avons eu beaucoup de plaisir dans les rapides, de plus elle ce manœuvre super-bien malgré sa longueur et sa largeur.
J'ai pêché 3 jours dans les baies de l'île du prince Édouard par temps calme et venteux avec l'ancre, cela m'a beaucoup aidé à me rapprocher des bars rayés. Le porte canne est vraiment un most pour ce genre de situation, vraiment pas déçu de mon achat!
J'ai hâte de voir comment elle va vieillir avec le temps mais pour l'instant je recommande cette planche à tout les pêcheurs mais aussi à ceux qui souhaitent faire des descentes de rivière un peu plus sportive! Plaisir garantie
Pour moi et pour toute la famille
J'adore mon nouveau Hooké Air et agréablement surprise de la facilité à utiliser la planche avec mes deux garçons de 2 et 5 and sur le lac. Le design est superbe. Un peu plus lourd que je pensais pour le transport en sac à dos et le premier gonflage demande de la patience avec la pompe manuelle. Plusieurs moments de plaisir à l'horizon seule ou en famille.
J'adore !!
D'une qualité incroyable! Livraison rapide .Le desing est super beau :)