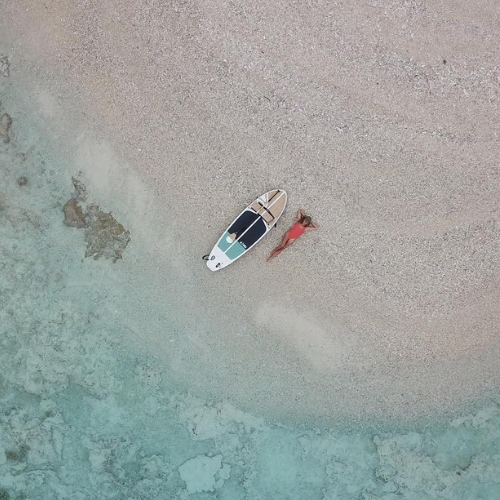 NANO ZIP AIR Inflatable SUP:
Why it's our Favorite
Being a big fan of paddleboarding, we wanted to create a new board that would push the game a bit further: a new compact board that combines the quality of TAIGA products and the ease of transport/storage of inflatable boards.
What makes it different from other inflatable SUPs?
It's simple: it's 50% smaller and more compact than typical inflatable paddle boards sold online. Once properly stored in its bag, with its pump, paddle, and fins, the Nano Zip Air measures 22'' x 18'' x 12''. That's about the size of a carry-on.
Whether you want to take it on a hike, store it in your suitcase or in the entryway closet at home, anything is possible!
How did you make that happen?
In order to maintain the quality and rigidity of TAIGA products, the design was created to allow the board to befolded in half along its length. The central straps, transport handles, and fins are located on both sides of the board.
Promise that it is just as effective and durable?
The quality of our products is our priority at TAIGA, and that will never change. The Nano Zip Air 9'8 is just as performant, efficient, and durable as our other inflatable SUP models. 
As an all-around SUP, it is perfect for all bodies of water. For example, its removable handle makes it easy to use for SUP Yoga, and its Bungee elastic allows paddlers to go on expeditions safely. 
"We bought our Nano Zip at the beginning of the summer, so they've been well tested in the sea and on the river. I like everything, speed, stability, the look is top. Small bag, light weight." - Gennady, 2022.
Zip Air Tech: iSUP Compact Technology Comparison