SUP With a Dog: All You Need to Know
Want to enjoy your SUP, but don't want to leave your dog home alone? Take him with you!
To ensure a safe SUP session with your dog, here are a few important things to know:
What's the best paddle board for a dog?
Both work. TAIGA's hard and inflatable boards are designed to stand up to anything that comes out of an adventure.
In fact, it's more a question of weight. Remember that the bigger your board (in terms of liters), the more weight you'll be able to put on it. So, if you decide to go for a ride with your beautiful hard Hana 9'5'' (165 L) and put your Labrador on it, you may find it a little challenging. If your dog is of medium/large size, we'd advise you to opt for a larger volume with an inflatable SUP. On the other hand, if you prefer the glide of a hard SUP, a Thuya 11'0'' / 11'4'' (210 L / 230 L) would be perfect for you and your dog. This board is big and wide (33'' / 34''), which will help you keep your balance.
In short, if your dog is rather small (a Chihuahua, for example), you can easily turn to a hard paddle board.
If you want to play it safe with any dog, the Kazuzu Air 12'6'' (336 L) is perfect. As it is a strong and voluminous board, you will be able to carry not only your dog, but also your dry bag for the day and maybe even a child! The best of both worlds!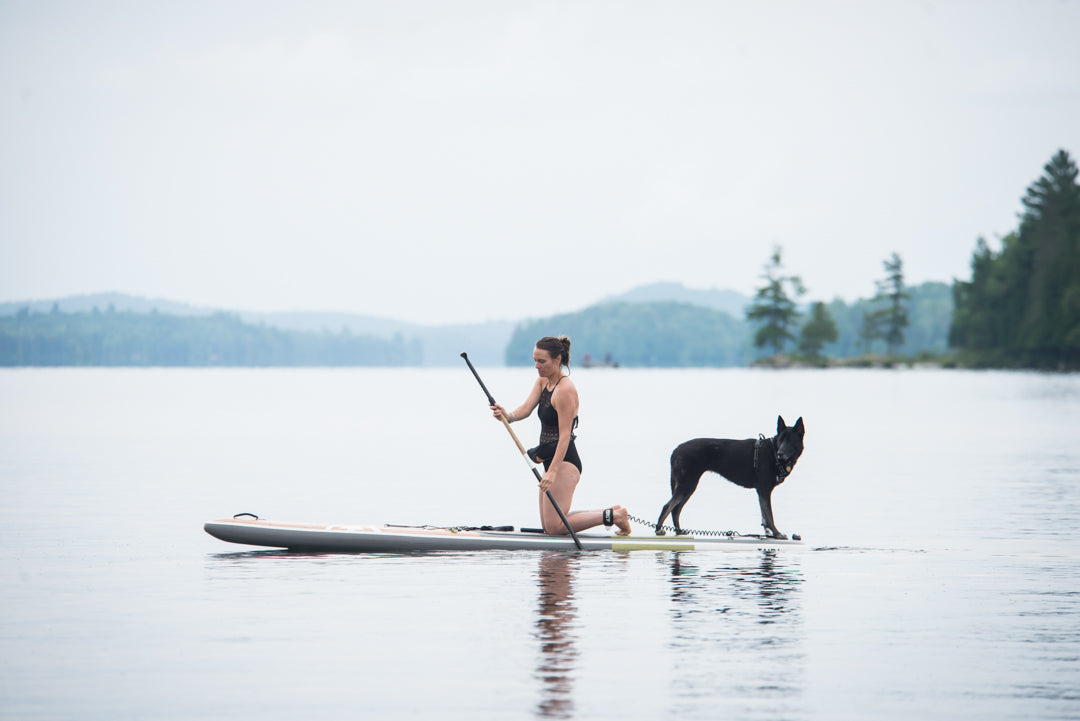 Safety Precautions
Even if your dog is comfortable on the water, a minimum of precautions should be taken. Clipping your dog's claws before going out on the board will certainly help keep your beautiful wood finish intact, or prevent a few snags on your inflatable.
What to bring for a dog on SUP?
It is very important that you and your dog have a flotation jacket that fits. A simple matter of safety. If you're not sure of the size, your local pet shop will certainly be able to help. If you're going away for a whole day, it's a good idea to bring along some treats, food and water for your dog; he'll be going through all kinds of emotions, and it's a good idea to reward him from time to time. It's also likely to be hot, so water is very important. You can put all this in a dry bag.
Here's a little checklist for your dogo:
✔ Food and treats
✔ Water (!!!)
✔ Flotation jacket
✔ Dog leash (if you stop on land)
✔ Poop bags
✔ Dry bag
How to tame your dog in water?
Let your dog discover your SUP while you're getting ready (indoors or outdoors) 
Get your dog on your SUP and teach him how to place himself on the board. 
Repeat step 2, this time placing your SUP near the water. 
Take the time to teach your dog how to get properly get on the board in shallow water. 
Once your dog has mastered steps 1 to 4, you are ready to go out and enjoy your day. 
How to paddle with your dog?
Depending on your dog's weight and energy level, you'll need to be ready to respond. That is to say, an active dog may throw you off balance more easily than a smaller dog.  
Let's remind you: if you want to keep your balance, bend your knees, which will lower your center of gravity. You can also slightly widen your feet on the board for better stability. Be alert to your dog's movements and follow his movements to make the most of your day.  
You will also have to position yourself well on the board. The idea is to always keep the board as flat as possible on the water to facilitate the glide and have a better control on the direction.
Our advice: place your dog closest to the nose of your board and sit between the handle and the back of the board, so you'll find a good balance. If your four-legged friend is small, you don't have to back up as much and your dog doesn't have to be far forward on the board. Again, it's all about weight and balance! 
Basically, your dog has to adapt, and so do you! It's not a big deal, but take your time. It will be a great new activity for you and your dog for many summers to come, guaranteed.