Why choose an Inflatable Paddle Board from TAIGA ?
What makes our boards stand out from other companies? The design of our products is made specially to maximize your experience on the water. Including it's stiffness, shape, thickness, interior construction, and accessories, we want your purchase to last for years (if you take good care of it)!
SUPERIOR RIGIDITY
Rigidity is proximate to the feeling of a hard paddle board.  
- Little rebound (bounce) effect (your board won't concave in the middle!) 
- Sharp responsiveness  
- Better feeling on the water 
- Greater control 
HYDRODYNAMIC SHAPE
- Faster 
- Smooth glide 
- Better maneuverability and stability 
THICKNESS: 4,75in.
Compared to 6'' for conventional boards on the market  
- Similar feel to a hard paddle board
- Low center of gravity (increased stablility) 
- Reduced resistance to wind 
TOP OF THE LINE CONSTRUCTION
X-WOVEN DROPSTITCH: X-crossed filaments between 2 woven membranes 
FUSION SKIN: 2 layers of membrane fused together; increased durability and resistance 
STRINGER TECH: 2x reinforcing fiberglass strip integrated in the structure. 
FCS FINS BOXES: Removable high quality FCS fins; standard in the surf industry. 
CAREFUL DESIGN
EVA PAD: 4mm foam mat with anti-slip and comfortable crocodile texture 
ERGONOMIC CENTRAL HANDLE: With removable neoprene to make it more comfortable for SUP yoga 
NEOPRENE HANDLES: On tail and nose for easy transport 
BUNGEE: For easy transport of your gear. 
D-RING: For attaching an anchor or leash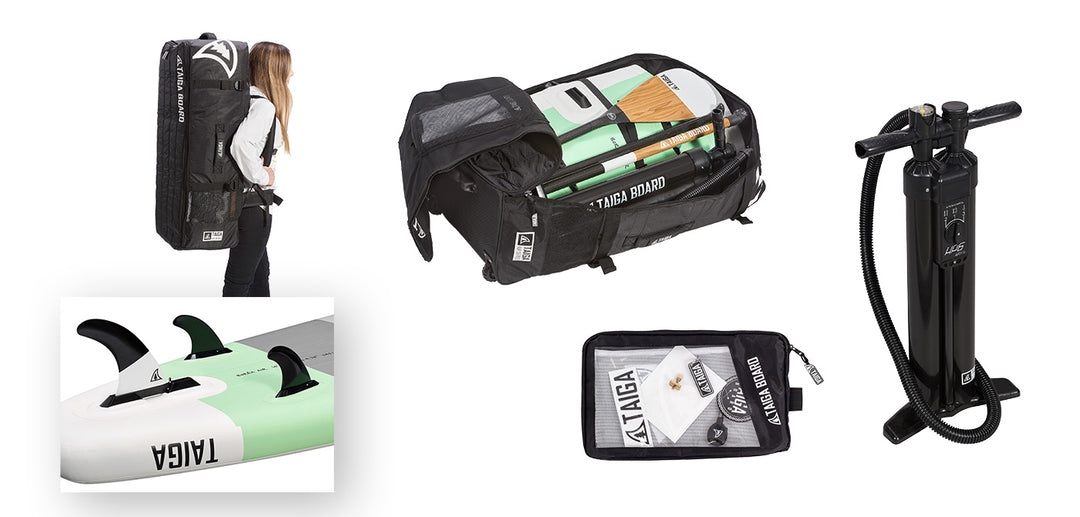 HIGH-END ACCESSORIES
DELUXE BACKPACK: 8mm foam padded backpack to protect your gear and simplify your travels; high quality build. 
TRIPLE ACTION PUMP: Increased efficiency when inflating your board (up to an optimal 20 PSI). 
HIGH QUALITY FINS: Made of nylon and fiberglass. Allows for greater rigidity and reactiveness in comparison to most fins included with basic inflatable board. 
FIN TRAVEL POUCH: Comes with fins, stickers, user manual, tools. 
COMPLETE REPAIR KIT 
EASYROLL FIN BOX
NEW exclusive technology 
- Split center fin box for easy roll-up and storage 
DURABILITY ET QUALITY
We've focused on the highest quality materials, exemplary construction, timeless look and details that will make a difference so that you can enjoy your paddle board for years to come.
Take a look at our full collection
Looking to compare TAIGA boards vs the economical paddle boards?