Everything You Need to Know Before Buying an Inflatable Paddle Board
Along with big box stores, Amazon, and paddle board schools which sell directly to their customers, there has been an arise of many new inflatable SUP vendors. Each with the same slogan: "the best boards are sold here".
Ultimately, what REALLY differentiates one paddle board from another?
1. Price
When purchasing a board, the first aspect people most often consider first is price, but know that the price often reflects the quality… You get what you pay for!
You'll come across inflatable boards that cost $500 and others, $1,500. Why is that? The answer is simple: the price of the board reflects the research and development, the quality of the materials, and the level of expertise behind its design. Be aware that a $500 inflatable board kit is not at all of the same caliber, nor does it perform as well as a $1,000 kit. 
Buy Cheap, Buy Twice.
Some lower-end boards may "do the job," but it's worth assessing your needs and how you plan to use the board first before choosing a board based solely on price.
2. Rigidity
When shopping for an inflatable paddle board (SUP), the #1 thing to look out for is, without a doubt, its RIGIDITY (how stiff the board is).
If the PSI of the board you're looking at doesn't reach 17 PSI, DON'T BUY IT, or it'll be a waste of money. A SUP with a PSI under 15 will lack in stability and will quickly take the shape of a banana (the tail and nose of the board will curl upward). Look for paddle boards with a PSI of 17 or higher for an optimal rigidity.
As a result of high-quality manufacturing processes and materials, our boards can be inflated up to 20 PSI, a level of stiffness that is greatly appreciated on the water.
3. Construction
If a company does not disclose information on their website about the PSI or the internal construction of their boards, beware! We suggest that you reach out to them and ask for more information (as their answers will tell you a lot about the quality of the board!).
Our boards are built with high quality X-WOVEN DROPSTITCH technology combined with our unique STRINGER TECH & FUSION SKIN, which consists of 2 fiberglass stiffeners fused together on the top and bottom of the board. This type of construction provides outstanding stiffness without compromising weight. We've also added rail bands for improved torsional strength and rigidity.
According to our tests, TAIGA boards are twice as stiff as an entry level board.
X-WOVEN DROPSTITCH
What is DROPSTITCH technology? Simply put, it's the main component of an inflatable SUP. Imagine thousands of threads that hold the 2 PVC membranes (top and bottom) of the board together. The thicker the lining and the greater the density of threads, the better the board.
A poor-quality dropstitch is less sustainable and could cause your board to potentially twist, explode, or split if the pressure inside becomes too high.
In the summer, under full sun, without a quality dropstitch, the internal PSI pressure of the board can rise significantly and create a thermal expansion that could cause your paddle board to EXPLODE. It's not a risk worth taking!
STRINGERS
You also need to consider the stringers. Stringers are the 2 strips of fiberglass located at the center of the PVC membrane on the top and bottom of the board.
✓ Increases the durability of the board
✓ Retains its original shape
✓ Retains its strength
✓ Provides a smooth glode on the water
An inflatable board with stringers sets it apart from other boards: it's twice as rigid as an entry-level board.
4. Shape
If the shape is not similar to a hard board, chances are that the company lacks knowledge on the sport and on the design. 
Our inflatables paddle boards have a hydrodynamic shape that offer a smoother glide, a better maneuverability and stability and allow you to go faster. 
ROCKER
The rocker is the curve of the board from one end to the other when looked at from the side.
X Avoid boards that don't have a rocker, unless they're touring boards as these have been designed this way to glide faster and straighter (the pointed shape of the nose will help cut through water). 
X Avoid boards with rockers that resemble a hockey stick. With this kind of board, you'll experience more resistance on the water and less of a smooth glide.  
What you should aim for is a progressive rocker. 
The shape and rocker of all our inflatable paddle boards are based on the shape and rocker of our hard boards, a priority at TAIGA. 
4. Thickness
Since 2021, thanks to X-WOVEN DROPSTICTH Technology, the majority of our TAIGA boards now have a thickness as low as 4.75", offering a closer contact with the water. Combined with increased rigidity, the glide of our inflatable SUPs comes close to that of a hard board...you're going to love it!
5. Deck Pad
An ideal deck pad is comfortable and non-slip. Some deck pads have patterns that allow water to accumulate on the surface, making it more difficult for your feet to stick to the paddle board. 
Our EVA DECK PAD technology is a crocodile patterns ideal for grip and the comfort of your feet. Some of our models are equipped with a Kick Tail deck grip for SUP surfing.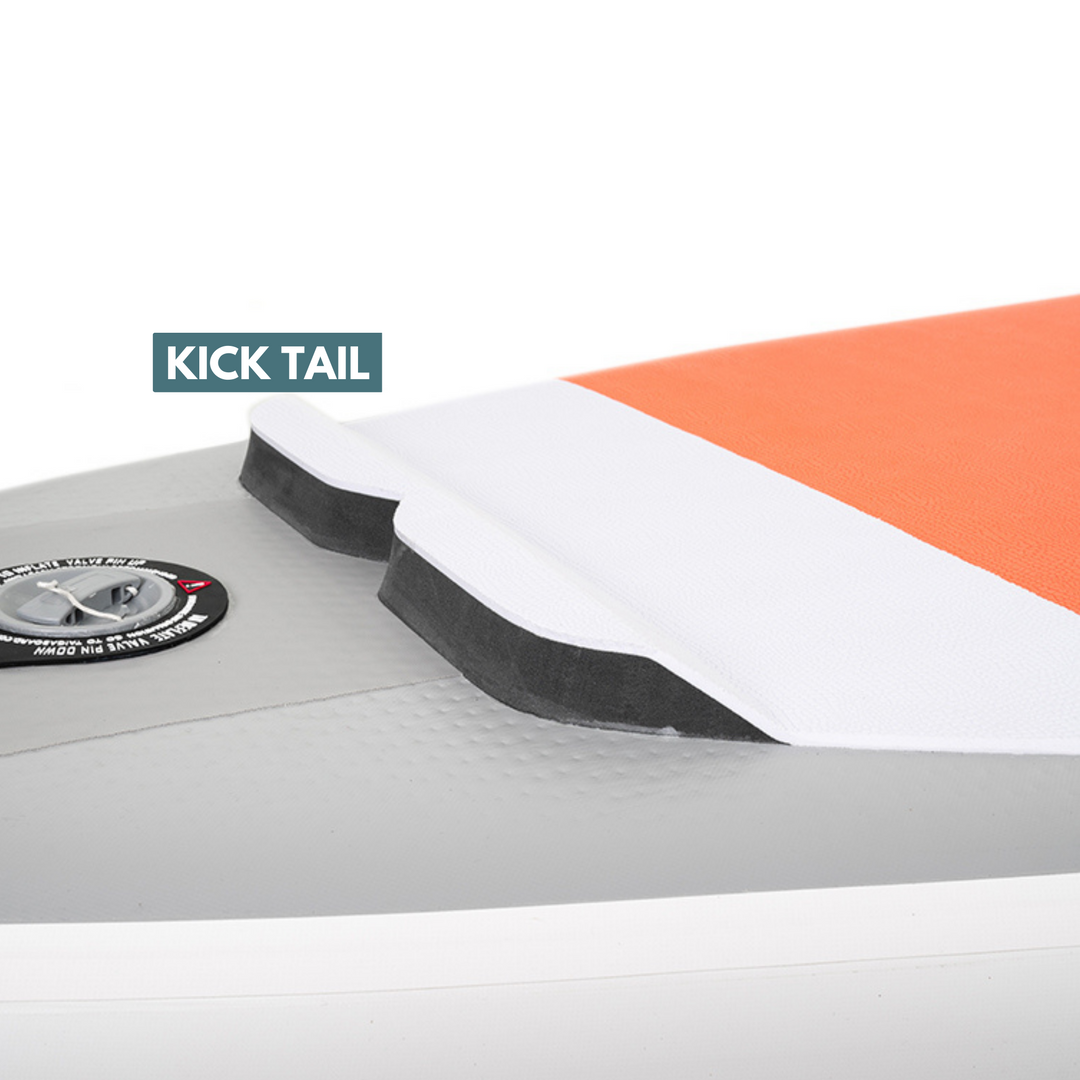 6. Fins
A center fin made with soft plastic or cheap materials is a common way to save costs. We strongly recommend better quality fins that will not vibrate.
Our 9'' fins d are made of high-quality fiberglass and nylon to ensure the necessary rigidity to stay on course. All our products come with a US Fin Box. Being standard in the industry, they allow you to easily remove your fin or even replace it in case of loss since they can be found in any good surf shop.
To be avoided:
X Special fin box systems; as you risk having a hard time finding replacement fins.
X Fins that are too small. They're not the most efficient and helping you keep a straight line in the water.
X Fins parallel to the central fin; it is synonymous with bad design. Fins should have a slight inward angle (like on surfboards) for better maneuverability.
7. Add-ons
Those little additions that make all the difference, that's also what a quality paddle board is all about. Thoughtful and useful additions like the carrying handles that will allow you to move your board more easily, the removable neoprene center handle for SUP yoga, the bungee(s) to slip your PFD or dry bag in and even for our specialized SUP yoga models that includes: D-Rings to attach your  paddle with straps or your SUP anchor. We even have our TRACTION EDGE technology on our Akoya Air 9'5. 
8. Travel Bag
Most SUP companies will include the carry bag for free with the board, but some are very low quality and made of thin canvas.
Here's what you should aim for:
✓ UV-resistant fabrics
✓ Padded lining
✓ Wheels
✓ Padded shoulder straps
✓ Comfortable handles
✓ Ventilation windows for moisture
✓ Multiple pockets to store accessories
9. Production
Some companies imply that their inflatable paddle boards are made in Quebec. The reality, however, is that 95% of the world's inflatable boards are made in Asia and 5% in Europe.
Urban legend: it is wrong to think that all SUPs are made in the same 3-4 factories, that they are all made in the same way, that environmental standards are poor and that workers are poorly treated.
The choice of our production partner is the result of several trips. TAIGA's team regularly travels there to develop new constructions, to find the best possible production quality and the best use of materials.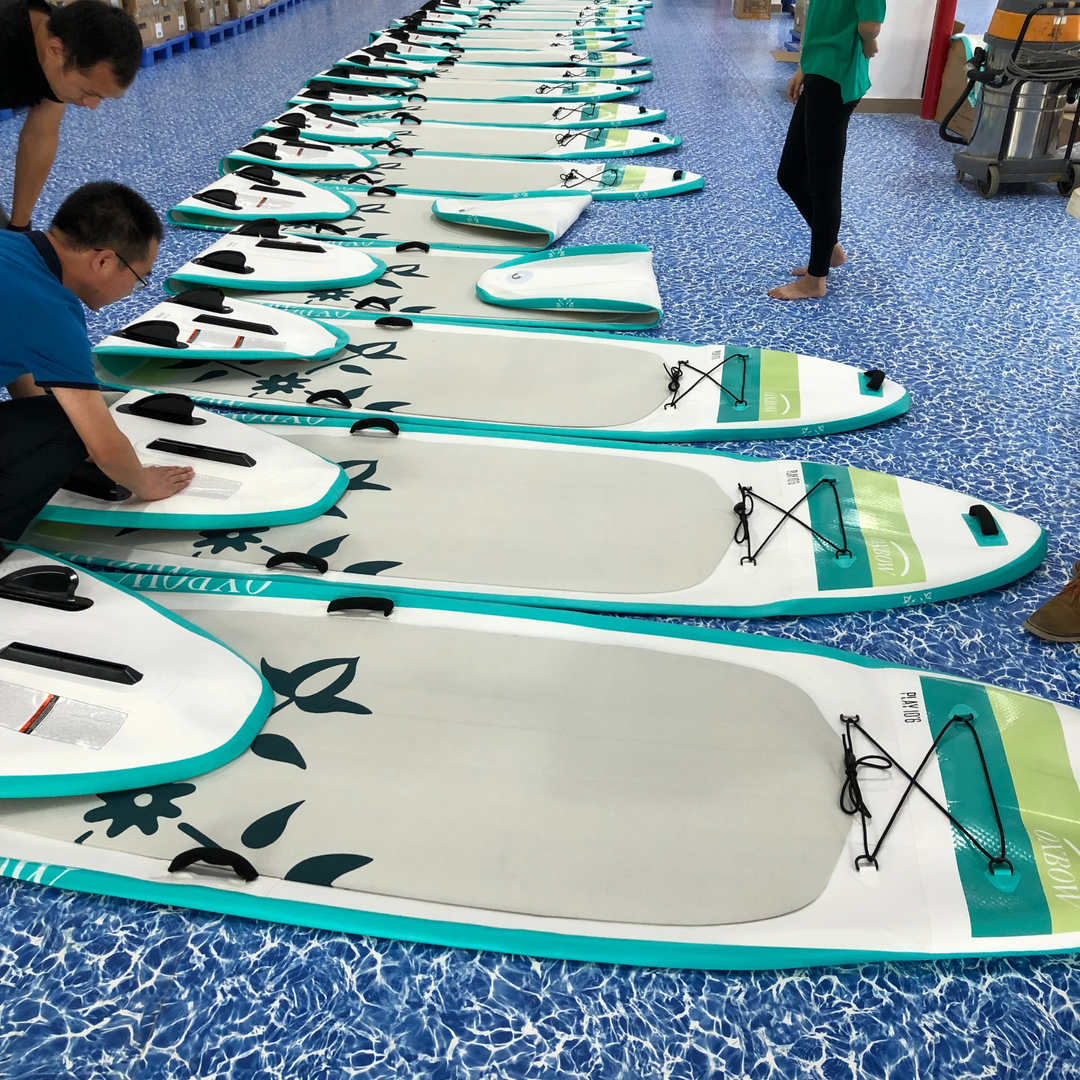 10. Companies
In the world of paddle boards (especially inflatable SUPs), many companies are starting to slack off and eventually disappear every year. This is mainly because the production of inflatable boards in Asia is extremely easy. The big problem is that these companies don't really understand the sport itself: they just sell inflatable SUP kits at reasonable prices. Before you buy, find out about these companies.
11. Warranty
Choose companies that offer warranties with a duration of 1 year or more. A manufacturing defect or a shipping glitch can happen. Think about it, what recourse will you have against Amazon in 1 year if you have a problem with your board?  
At TAIGA, we are proud of the products we create and year after year, we aim to improve our workmanship with the intention of offering you products that continue to surpass our quality and reputation. Our quality control allows us to offer the initial buyer a one (1) year warranty on the quality of your board and accessories.