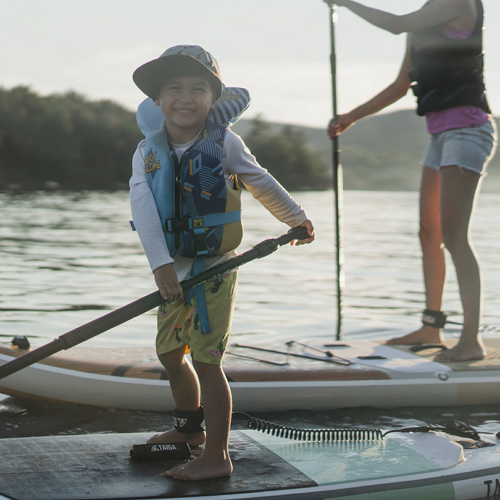 How to Paddle Board With Kids
You want to take the whole fam out on the water and introduce the little ones to paddleboarding, but you're not sure where to start?
Here are some tips for a safe family outing! 
1. Which SUP equipment should you choose for kids?
Paddle board 
Opt for a stable and wide board specifically designed for beginners and suitable for the child's size and weight.
Paddle 
Choose an adjustable paddle to allow the child to use itcomfortably.
2. Which body of water is suitable for the family?
Select a calm body of water without strong currents or waves (small lake, pond, quiet river, etc.). Choose a place that you know well where launching is easy (a sandy beach, a dock, etc.). Also, check the wind and water temperature to avoid more challenging conditions!
3. How to introduce children to paddleboarding?
Start by explaining the basics of SUP to your children on land. Show them how to get on and off the board, how to use the paddle, and how to maintain balance with both feet on each side of the central handle.
Once on the water, start by paddling while sitting or kneeling until they feel comfortable, then encourage them to gradually stand up. Remember, this initiation should be fun! Enjoy swimming together, play games, go exploring... in short, have fun as a family!
4. How to talk about water safety with children? 
Safety is paramount when it comes to paddleboarding with children. Always stay close to them and keep a close watch. Explain the importance of wearing a PFD and ankle leash. You can also set navigation limits and explain basic safety rules to them.
Have a great family outing!