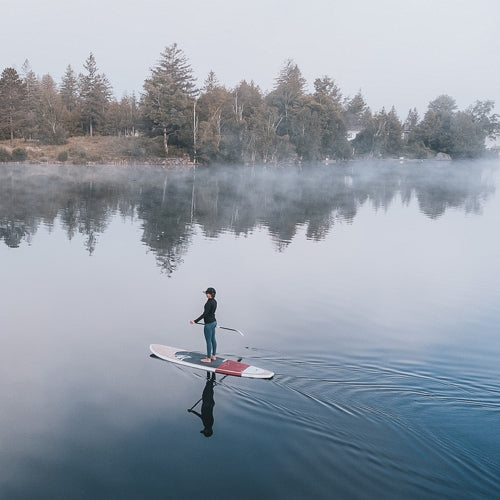 5 Best Places to Paddle Board in the Laurentians
The Laurentians, this picturesque region located north of Montreal, is a true paradise for outdoor enthusiasts. With its numerous crystal-clear lakes and mountainous landscapes, the Laurentians offer ideal conditions for paddleboarding. 
Here is our top 5 list of the best places to discover the region: 
5. Lake Provost
Surrounded by lush forests and majestic mountains, Lake Provost is located in the Pimbina-Saint-Donat area. Whether you're looking for moments of relaxation or outdoor adventures, this spot offers an immersive experience in the heart of the Laurentian nature. Enjoy the lake with TAIGA boards, thanks to a partnership with SÉPAQ and Time's up!
4. Lake Ouimet
Set in a peaceful setting, Lake Ouimet is a perfect spot for exploration. You can admire the beauty of the surrounding nature while gliding on the calm waters of this enchanting lake.
3. Lake Mercier
Locatednear Mont-Tremblant, Lake Mercier is an ideal spot for paddleboarding. With its calm and crystal-clear waters, it offers a relaxing experience.
2. Riviere Rouge
This river is simply beautiful. Lined with magnificent sandy beaches (perfect for docking!), it offers breathtaking panoramas. The 10 kilometers between Labelle and La Conception are shallow with a weak current, making it an ideal section for a safe family outing.
1. Riviere du Diable
For a unique and wild experience, head to Farouche Tremblant! Come and navigate the winding Riviere du Diable aboard our brand new ROOT Collection, a series of unique paddle boards made from natural Paulownia wood.
Have a great outing in the Laurentians!