SUP CAMPING 101:
Everything You Need to Know
Do you dream of adventure? of camping on a desert island? of discovering unique places? of being able to access the most remote locations of Canada? You want to rise with the sun and cook a meal in the middle of the forest? We have something for you: SUP camping!
Here's a guide that includes planning tips, a list of essential gear, including the best TAIGA boards for your SUP camping adventure!
1. Choose the right destination
It may seem trivial, but choosing where to go is a key step in planning your trip. If you are unfamiliar with your chosen location, do some research and get as much information as possible on it before you leave. Find a map and mark your route, but more importantly, make sure that the challenge is within your capacities. This trip is meant to be memorable and fun!  
The more information you have on your destination, the more enjoyable and relaxing your trip will be. To inspire you, SÉPAQ has an entire page dedicated to canoe-camping where you can discover several spots according to your expertise in the field! But don't forget to be well prepared! There are differences between SUP camping and canoe camping!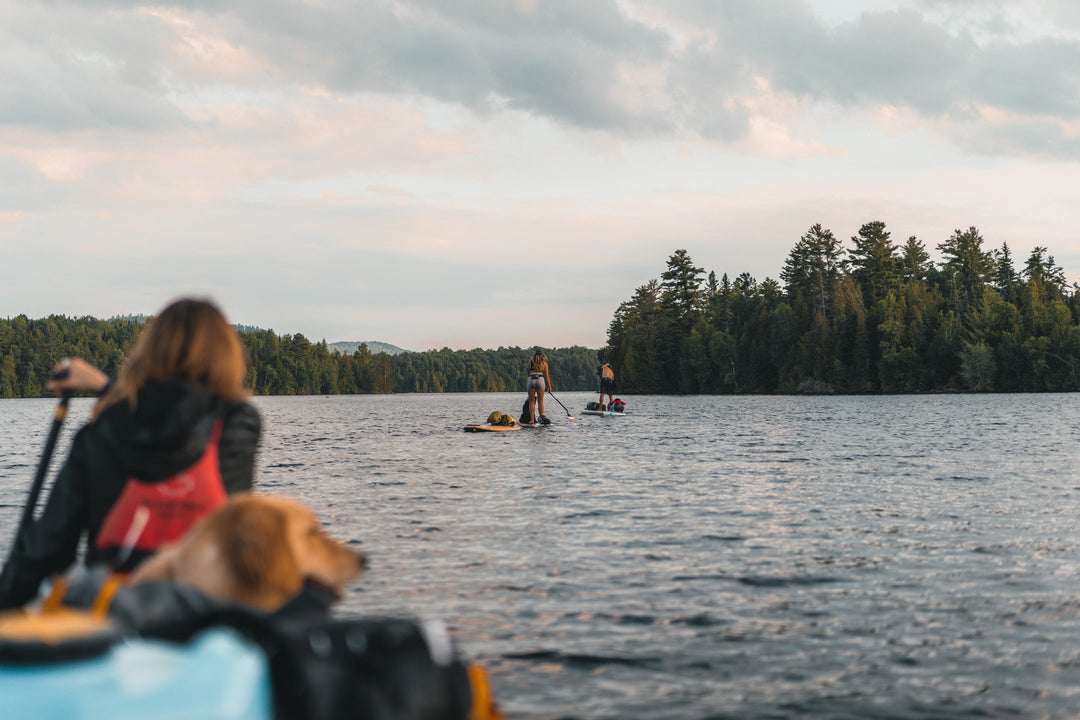 Out Top 3 Favorite Remote Locations
Of course, if you've never been on a long expedition, we suggest you explore your destination and paddle for a few kilometers before the big departure. This will allow you to test your endurance and rhythm. Always choose your itinerary based on your skills and experience level.
2. Warn family and friends
Ideally, don't go off on your own, or let someone know when you're going and when you'll be back. If you're going to a no network zone, make sure you have all the necessary safety equipment (see list below). If needed, know that you can always rent a satellite phone.
3. Check the weather forecast
Oh yes, the weather. If you've ever been on a camping or SUP camping trip, you'll know that there are several things that can help or ruin your getaway.
Wind
Based on your route, note the direction and strength of the wind. If you're expecting winds stronger than 30 km/h and gusts exceeding 40 km/h in the opposite direction, you may find your SUP excursion a little intense. On the other hand, if the if the wind is at your back, it's a GO! On the water, the wind can be your best friend or your worst enemy.  
Rain
If you are well dressed, rain is not a problem on the water. That said, weather-appropriate clothing is essential. If a wetsuit is necessary, try wearing just the bottom; Neoprene can create resistance in the shoulders and could tire you faster. Also, a dry wetsuit is VERY hot and you definitely want to avoid a heat stroke on the water.  
Our advice: Wear a raincoat with a synthetic or wool base layer. If the weather is nice and warm, go for the swimsuit!
Temperature
Avoid extreme conditions such as heat waves or below freezing temperatures. In the middle of summer, make sure you have plenty of water or the necessary equipment to filter and purify it.
4. Choose the right SUP equipment
Paddle Board
The longer the board, the faster it will go. The wider the board, the more stable it will be. With this in mind, we would suggest a Thuya 11'0'' or a Kazuzu 12'6''. The Kazuzu is a touring board, which is likely what you'll be doing on your trip.  Inflatable or hard? Your call! Just remember that the inflatable has more volume, and therefore a greater capacity in terms of weight.
Paddle
Choose a light and adjustable paddle, such as the 2 or 3 pieces carbon paddle. Seeing as your pace, intensity and position will vary throughout your trip, having the possibility to adjust the length of your paddle will come in handy and make for a much more enjoyable experience. Trust us! 
5. Bring light equipment
It's time to make a list of what you'll need. On an expedition like this, it's important not to forget anything, but it's also essential to avoid bringing superfluous items that take up space and are heavy to carry. Remember: the more your board has to carry, the heavier it will be, and the quicker you'll get tired. We've prepared a list for you; you'll be able to fit everything into a large 65 L or larger dry bag. We also recommend a 2nd 20 L dry bag that you can put on the rear bungee of your board.
For sleeping
✔ Sleeping bag - you can leave it in its compression bag. The bag will serve as your pillow.   
✔ Compact camping mat    
✔ Headlamp    
✔ Tent or hammock   
Clothing
✔ AVOID COTTON: this is the worst enemy for outdoor activities. Instead, choose fast-drying clothing made of polyester, or wool clothing that will keep you warm even when wet.    
✔ Choose versatile clothing. The less you have to carry, the better.  
✔ Opt for multi-layers   
✔ Sandals or shoes with socks
✔ Hat
Kitchen
✔ Camp stove + pan   
✔ Camping dinnerware essentials: 1 cup, 1 bowl, 1 utensil kit   
✔ Water filter or purifying tablets   
✔ Freeze-dried meals + energy bars   
✔ Bag for trash – leave no trace!  pas de traces! 
Other
✔ First aid kit   
✔ Pocket knife   
✔ Mosquito repellent   
✔ Sunscreen   
Nautical accessories
✔ Board and paddle: check the condition of your equipment before leaving. This step is often neglected, but it's super important.
✔ PFD (personal floating device) 
✔ Whistle
✔ Pump and repair kit for inflatable SUP 
Now that you know all that there is to know, it's time to go explore and fill your head and heart with lasting memories. Have fun and, above all, remember to sit back and enjoy the stars!