Cuba in SUP: The Best of Both Worlds
Passionate about board sports, our ambassador Guillaume travels in search of adrenaline. He chose Cuba, the perfect spot to practice kitesurfing, paddle boarding and fishing. Read on to learn more about his experience!
''In December of 2016, I departed for Cayo Guillermo, Cuba to live out a week of happiness.''
A Passion for Kitesurfing
For more than 15 years, I have been practicing kitesurfing: a true therapeutic sport. These benefits are palpable with all these thrill seekers. This is probably the reason why so many people dream of trying it. At first glance, everything seems perfect, but there is an important variable to consider: no wind, no kite.
''During my trip, the wind was favourable for only three days.''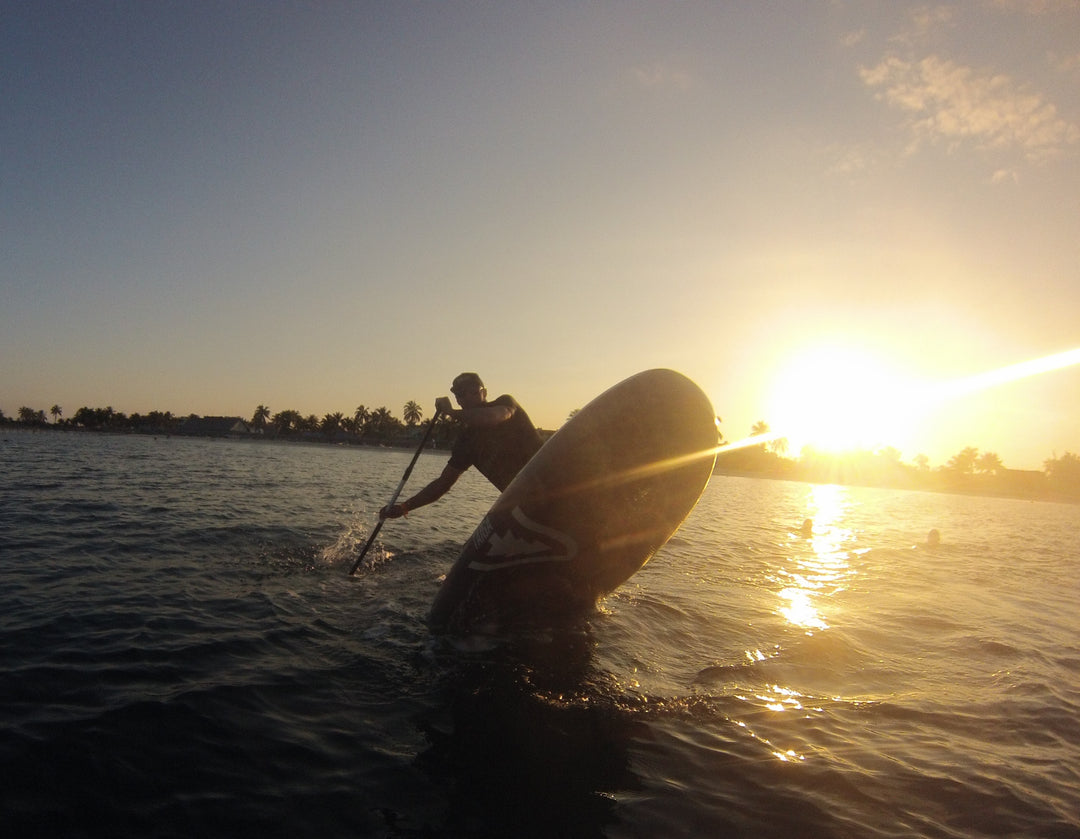 A New Reality
Weather conditions have been changing for the past few years. In Quebec, if the winds are now very irregular, in Cuba, the statistics are not the same. So I had to adapt to this new reality and get used to the idea that conditions are not always perfect for kitesurfing.
''My savior : the paddle board.''
This is where my passion for SUP started. I was already passionate about SUP Surfing, but now I saw the multiple possibilities of using my board. During the summer of 2019, I had several great SUP experiences: rapid descent, 42 km race, a 6h12 SUP Surf record without stopping and dozens of exploratory lake and river rides.
A New Passion
No more disappointments with the weather forecast. It's also where I remembered reading one day "there's no such thing as bad weather; there's only bad clothing". So I decided to stop worrying about the conditions and just be zen. Anyway, I had found SUP: a discipline that allowed me to find the therapeutic effects I was looking for in kitesurfing.
With TAIGA's collaboration, I had the chance to test a SUP Fishing prototype during my trip to Cayo Guillermo in 2019. Before leaving, I had planned to go around the island, but I had not planned to find myself in a labyrinth of mangroves. After two great days of kitesurfing, the fan master had decided to abandon us for a while.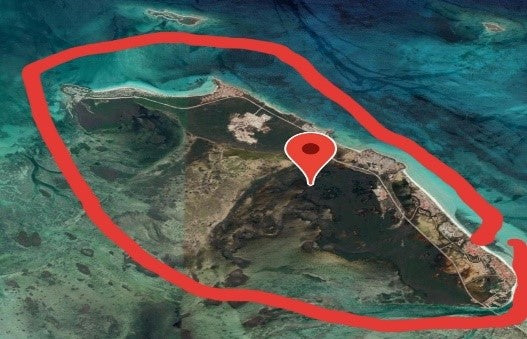 A Trip Around The Island
I put my plan into action: a journey of over 25 km. Half of it was in the mangroves and the other half in the open ocean. With 5 liters of water in our pockets, sunscreen, carbohydrate and protein sources, mosquito repellent, a long licra, a headlamp, a cell phone, water shoes, a snorkel mask and a fishing pole, we were ready for our adventure. n our planning, we had to deal with the tide; the current being in or out depending on the time of the day. For this reason, our expedition started at 10 am and we had to get out of the mangrove maze before dark.
Half Way There
The beginning was very pleasant. The current pushed us quietly on a distance of 3 km in an inland sea which allowed us to tease the fish. Several fish attacks, but no big one on the horizon. After passing the ruins of the "cable park" destroyed by hurricane Irma, the big flat of the inland sea, we arrived at the labyrinth. We were literally alone in the world, well almost. Rays, starfish, barracudas and small fish were wandering around in the shallow waters. It was there, halfway through the trip, that we decided to take a little break. The discovery of two wrecks in the crystal clear waters was another unforgettable moment. We put on our diving mask to explore the artificial reefs. A real show that our GoPro allowed us to immortalize.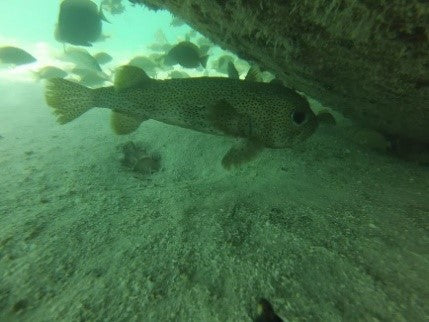 ''The sound of the waves in these caves was music to our ears.''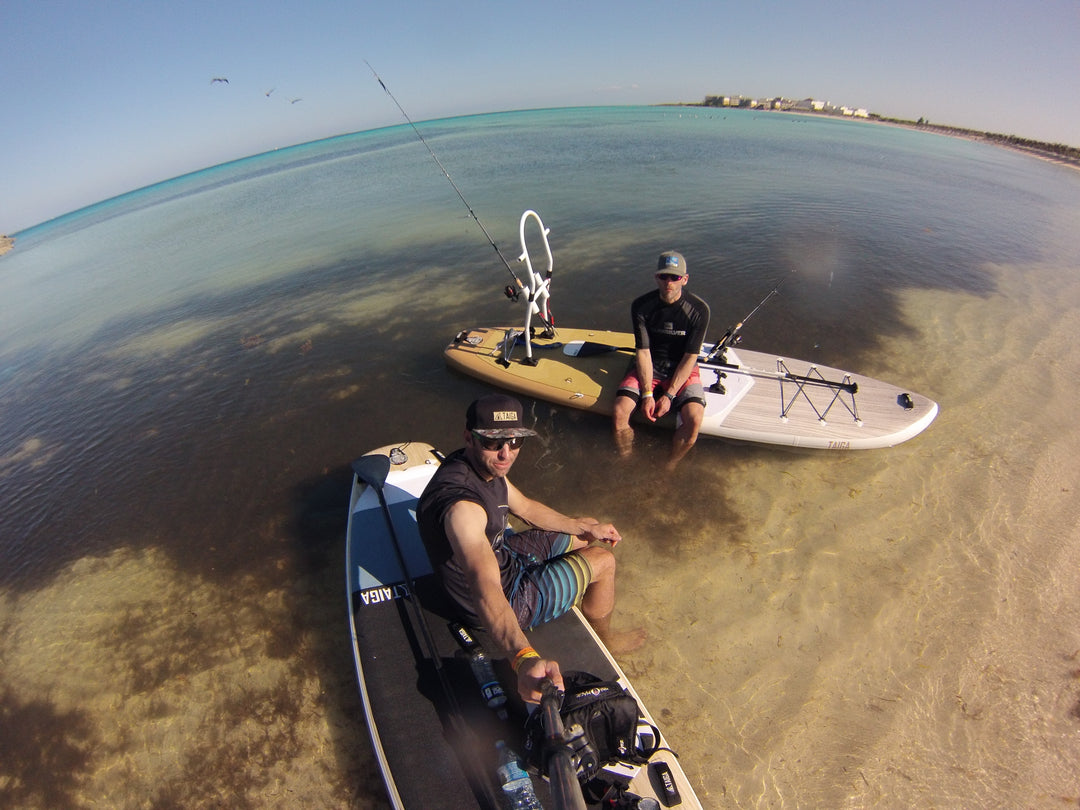 It was now 2 pm. We were on our way back to the ocean. We were paddling along rock cliffs with submerged caves. The sound of the waves in these caves was music to our ears. The wind had picked up, creating an onshore/offshore phenomenon: a headwind of over 30 km/h and chaotic 1 meter waves against the ultra-sharp rocks. Difficult conditions for SUP.
One Last Gift
For more than 2 hours, we felt like we were doing a fast run with a headwind. About 5 km before our arrival, we had one last gift. A bay sheltered from the wind where we could fish. A real party. Pelicans and bigger fish were on the hunt. Many attacks and we even managed to catch jacks, barracudas and flutefish. That's a good way to end a day!
''The SUP had, once again, saved my kitsurfing trip.''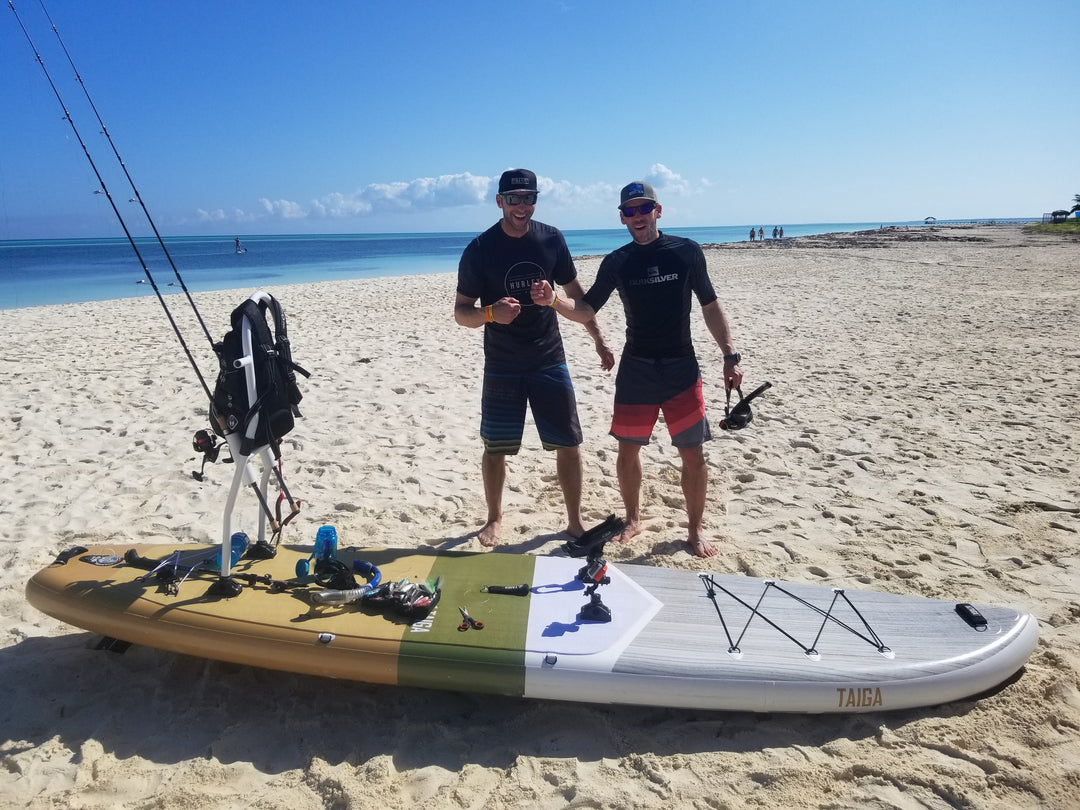 25 km in 7 hours
Our adventure finally ended with more than 150 kitesurfers under a very colorful sunset. 7 hours had passed to cover the 25 km that completed our course. The SUP had, once again, saved my kitsurfing trip. This day will remain forever engraved in my memory!
Thank you Nicolas Jolicoeur (co-founder of TAIGA) for trusting me with this project. TAIGA's new HOOKÉ AIR 11'6 SUP fishing board expands the experience of this great sport for travel.